What are Voice Avatars?
Just like visual avatars in games, online forums, and social platforms, voice avatars are a representation of your digital identity. By creating and using your Voice Avatar regularly, other users will be able to recognize you across different games and chats instantly by the sound of your digital voice. 
With Voicemod, you are in control of how you are heard. Break free from the limitations of your own voice with your Voice Avatar, build your personal brand online, and sound more like yourself than ever before. Putting your Voicemod's Voice Avatar together with the new metaverse and multiverse platform arising at the moment is the perfect match. Enter a new world with a new you.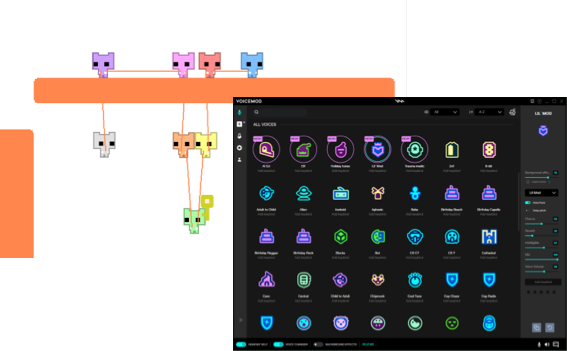 How to get your own Voice Avatar for Metaverse platforms
Download Voicemod now to create your custom Voice Avatar, or simply choose one from our ever-growing library. We have a wide range of ready-to-use Voice Avatars that you can tweak to perfectly match your online persona.
To create your unique Voice Avatar from scratch, head to the Voicelab and start adding and mixing dozens of audio effects until you achieve a voice that truly feels like your own. You can use your voice avatar in metaverse and multiverse platforms such as VRChat, Roblox, Rec Room, Animal Crossing, IMVU, Miniworld Game, Sansar, and Second Life among others.
Creating the Soundscape for the Metaverse
Our job at Voicemod is to give you multiple options for you to choose the perfect Voice Avatar. Create an extension of your identity adding an extra layer of customization: Your very own sonic identity. Voice avatars are beyond personalizing your game character defining the color of eyes, facial look, and clothes of your choice. This is about creating a new vocal identity that together with other's vocal identities will form the soundscape for the Metaverse.
Get inspired, get as creative as you want, and enter the Metaverse-like experiences and games with a completely new you. Explore all the worlds possible within the different Metaverse platforms and your vocal avatar with Voicemod.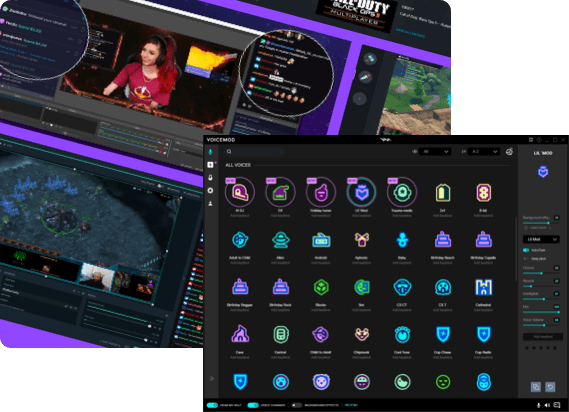 Coming Soon – Mask your identity with genderless voices
We've been working on creating gender-neutral voices that allow you to create Voice Avatars that remove gender from the equation.
At Voicemod, we believe that our online identities don't have to reflect what we look like in real life. Sometimes we need to protect ourselves from being bullied or harassed. Other times, we might feel like our physical bodies – our natural voice included – fail to express who we really are. With genderless voices, you get full control over how much of yourself you are willing to reveal.
How to use Voicemod with other games & apps
if(is_admin_bar_showing()){ ?> } ?>