Voicemod & Streamlabs OBS
Change your voice in your
streamings
Steamlabs OBS is one of the most complete solutions for content creators who broadcasts their online games or perform live sessions. To enrich these contents you can use all kinds of overlays, animations, effects for the webcam, … And now you can also customize your voice with Voicemod, a voice changer, voice generator and soundboard.
It is possible to select Voicemod as a source in any scene of Streamlabs OBS so that the voice can be modulated to celebrate a victory, trolling the playmates or perform roleplay in any videogame. The options that Voicemod offers are endless, since it allows you to combine different audio effects to create unique voices.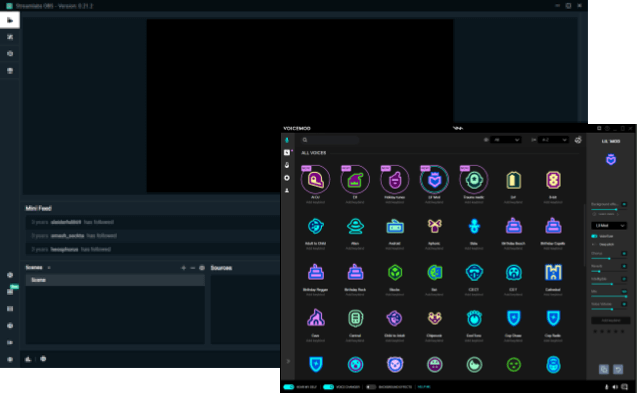 HOW TO USE VOICEMOD ON Streamlabs obs?
Download Voicemod, install & configure it.
Open Streamlabs and go to Editor.
Add a New Audio Input Capture and select Microphone (Voicemod Virtual Audio Device (WDM))
Now the mic signal can now be processed by Voicemod Voice Changer in real time
Engage like a PRO!
Coming Soon: Voicemod Plugin for Streamlabs
Let your viewers change your voice!
In the future will be possible to engage your audience through your voice, thanks to the Voicemod plugin for Streamlabs OBS. Thanks to this plugin the creators of content can increase subscriptions, donations and follows letting their audience be able to change their voice in real time.
The plugin connects directly to Voicemod and when a user makes a donation or subscribes he activates the voice changer and the content creator varies his voice for a few seconds and totally by surprise: a new way of interacting with the audience. The plugin also includes options to add an overlay with a Call-to-action and a chatbot that publishes the "price" of each voice change. If you want your viewers to troll you live, go to the App Store of Streamlabs OBS and install the Voice Reactions plug-in from Voicemod.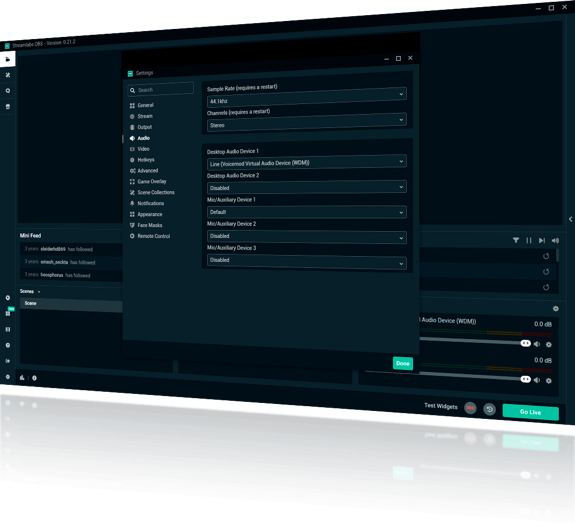 How to use Voicemod with other games & apps
if(is_admin_bar_showing()){ ?> } ?>