How to set up the World of Warcraft
voice changer
Change your voice in World of Warcraft in 5 simple steps:
Download Voicemod and configure it correctly on your PC by selecting your main microphone as the input device in the application.
Make sure that the "Voice Changer" toggle at the bottom of the window is turned on.
Browse the library of soundboards and voice filters and assign your favorites to keybinds if you wish.
Open your voice chat application of choice (Battle.net App, Discord, TeamSpeak, Skype, etc.).
In the application's microphone settings, change your input device to "Microphone (Voicemod Virtual Audio Device)"
Your new voice and sound effects should now be coming through your microphone signal. Enjoy your new voice!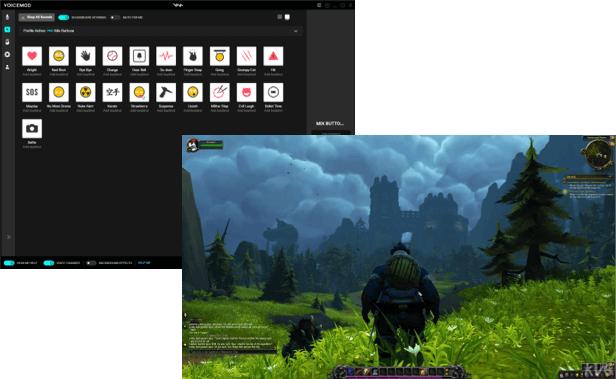 World of Warcraft soundboard: The best sound effects for your game
Put a spin on regular gameplay and raids by incorporating sound effects. With Voicemod, you can try out a huge selection of soundboards, with new ones releases monthly! Whether you want to meme with perfectly-timed responses or add some epic battle music, the choice is all yours.
Have some favorite custom sounds of your own? Craft your very own soundboard for World of Warcraft! Add anything from World of Warcraft sound effects to songs. For ease of access, use our keybind system to assign your most-used sounds to keys and spam away.
Add a fresh voice to your characters
If you're looking for how to change your voice in World of Warcraft, then Voicemod has you covered. Use the power of voice filters to transform into anyone. Need some Autotune? We've got you covered! Want to sound like a demon from hell? We can do that too. Browse through our library of over 100 voice changers to sound funnier, scarier, or louder than ever before.
If you're looking to improve your normal voice and microphone, try out our Clean Voice filter — clean up any background noise and balance audio levels for an enhanced listening experience at the click of a button.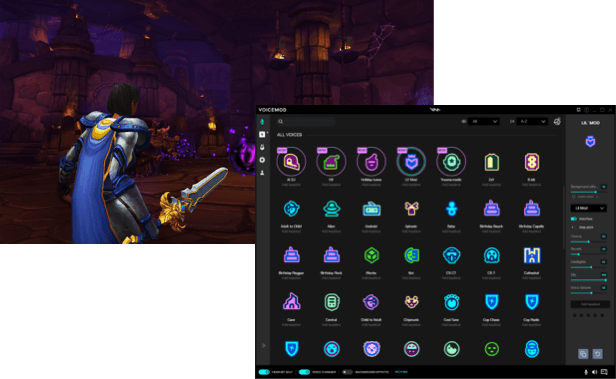 CREATE YOUR OWN VOICE FOR WORLD OF WARCRAFT
Want to customize your very own voice changer for World of Warcraft? Check out the Voicelab and tinker to your heart's content — with over 15 sliders and effects, you can take your voice wherever you'd like it to go. Simply change the pitch, add a little reverb, throw in some echo, and much more!
If you're in need of some inspiration, our community has created thousands of voices that you can import directly into your Voicemod application! Browse the library, save your favorites, and even edit them to personalize them further. If you have a creation you're proud of, share it on our Voices page to allow other members of the community to try them out!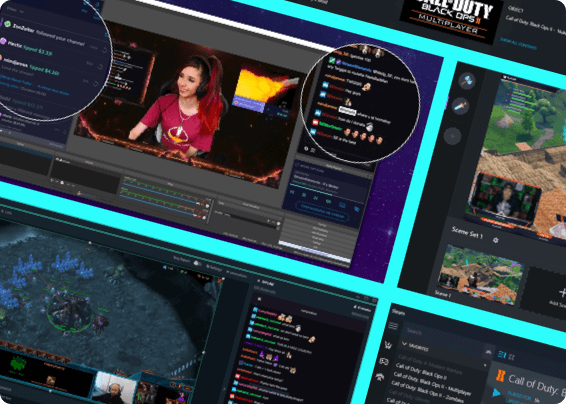 Can I use Voicemod with other chat applications?
Good question — of course you can! Voicemod is compatible with a variety of popular voice chat applications, so you can take your new voice anywhere. Use Voicemod's voice changer and soundboard with Discord, TeamSpeak, Skype, or even OBS and XSPlit if you're a streamer! Simply configure these programs by selecting "Microphone (Voicemod Virtual Input Device)" in their respective sound setting menus, and ensure that Voicemod is running in the background.
Visit the guide section at the bottom of this page for more detailed tutorials on how to use Voicemod with your preferred program.
How to use Voicemod with other games & apps
if(is_admin_bar_showing()){ ?> } ?>