Voicelab: Get creative with the best AI voice maker
Looking to go beyond default? Voicemod is the leading voice changing tech for gamers, streamers, Vtubers, and content creators alike, and the Voicelab allows you to take voice filters to a whole new level. Create distinctive voices to use in multiplayer games with friends or go the extra mile with your streaming content! Design filters to mimic popular characters or come up with totally new ones – it's all possible with Voicemod and takes minutes to set up! Play Among Us, Rust, Dark and Darker, Minecraft, Apex Legends, Bebo and any of your favorite games with Voicemod to have the best immersive experience. Voicelab is available for Voicemod PRO users. Try our AI voice generator too.
How to set up the Voicemod Voicelab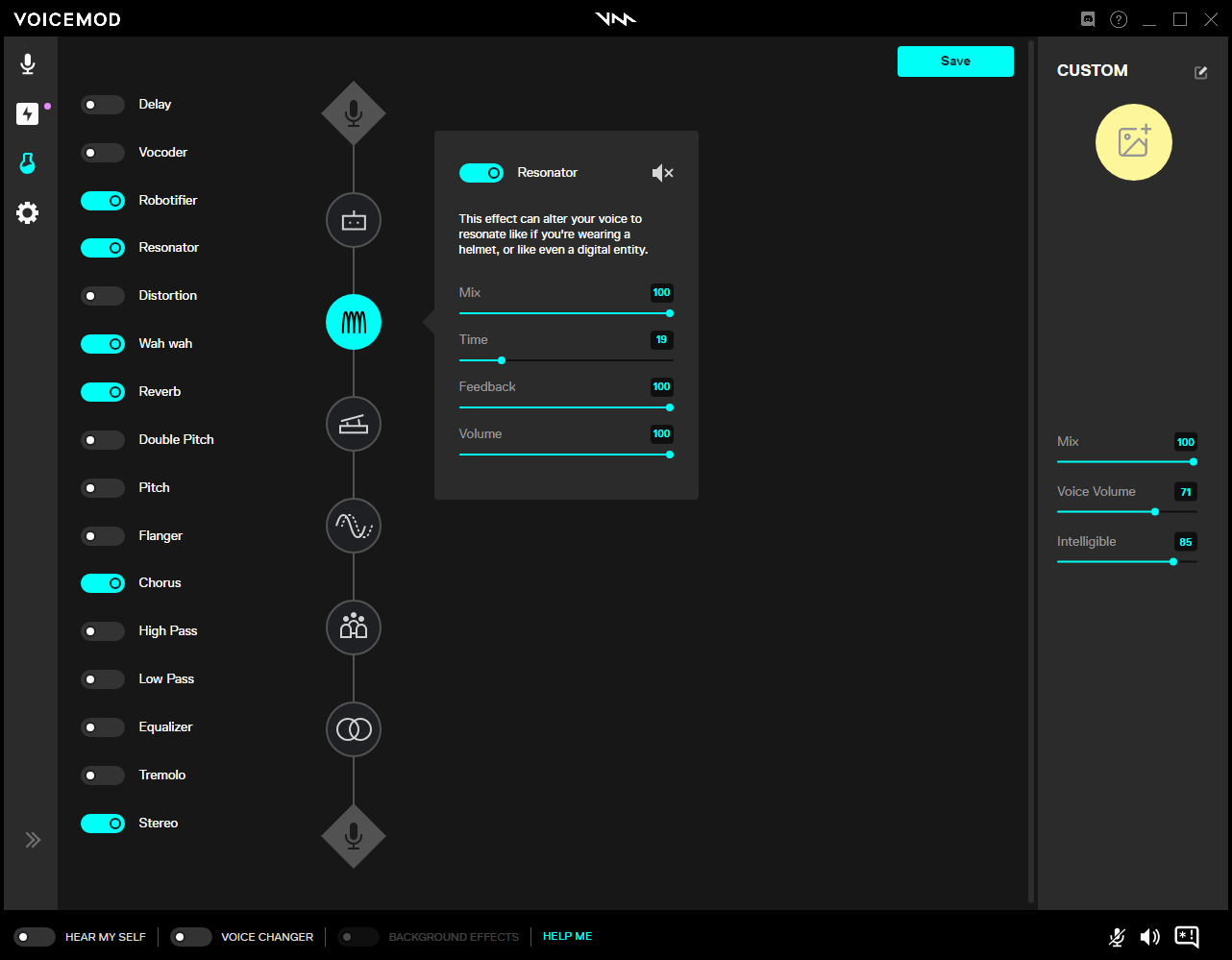 Get started in 6 simple steps:
Download Voicemod and configure it correctly on your PC by selecting your main microphone as the input device.
Select the Voicelab menu option to access the various voice creation features.
Make sure that the "Voice Changer" toggle at the bottom of the window is turned on and use the "Hear Myself" toggle at the bottom of the window to be able to listen to and demo your new voice.
Browse the existing set of tools, effects, and sliders and combine them to create your own voice changer. There are no limits to how creative you can be!
Name your voice, add an icon to identify it easily, save it to Voicelab, and assign a keybind if you wish!
Ensure that you select "Microphone (Voicemod Virtual Audio Device)" as your input device in the application you want to use your new Voicelab creation with.
Your new voice should now be coming through your microphone signal. Enjoy your creation!
Endless Customization
Use audio effects such as Delay, Robotifier, Vocoder, Pitch, Reverb, Wah-wah, and many more to craft your perfect voice. Each effect has its own customization to allow you to fine-tune every aspect of your creation. Make your voice higher, lower, scarier, funnier, or totally unrecognizable- the choice is yours.
What sound effects for the microphone can you use in the Voicelab?
Vocoder: Voice Vocoder slider mixes your voice with another sound source and makes yourself sound like a robot, a vacuum cleaner, a T-Rex. All full of harmonic and life. God save the Vocoder!
Wahwah: Do you know who Jimi Hendrix was? Do you remember that guitar effect that he always used and drove you crazy? You can now apply it to your voice with this great effect.
Reverb: A reverberation, or reverb, is created when a sound is reflected causing a large number of reflections to build up and then decay as the sound … BLA BLA BLA. This is the effect that will make you sound like you are inside a cave!
Pitch/Double Pitch: Modify the tone of your voice to speak as if you had aspirated helium or as if you were an ogre with a hangover.
Flanger: A classic sound effect perfect for creating voice effects from outer space.
Chorus: Multiply your microphone signal by 1000 and make your voice an army for trolling!
Filters: Remove from your voice the low or high frequencies of your voice signal.
Want something more specific? Read about Robot Voice: How to Easily Create it Yourself and the Top 10 Monster Sounds of All Time & How to Make Them in our blog.
Another option would be to use the Persona Voice
AI Persona Voice
What actually is Persona Voice?
Persona Voice is new AI voice filter in Voicemod Voicelab that allows you to generate 36 variations of your voice using AI.
Persona voice effect offer a combination of 3 age choices (young, adult and senior) , 3 gender choices (woman, man, and androgynous) and 4 tone variations.
But you don't have to stop there you can add any of the other effects on the top of Persona to make the your voice creation even more unique.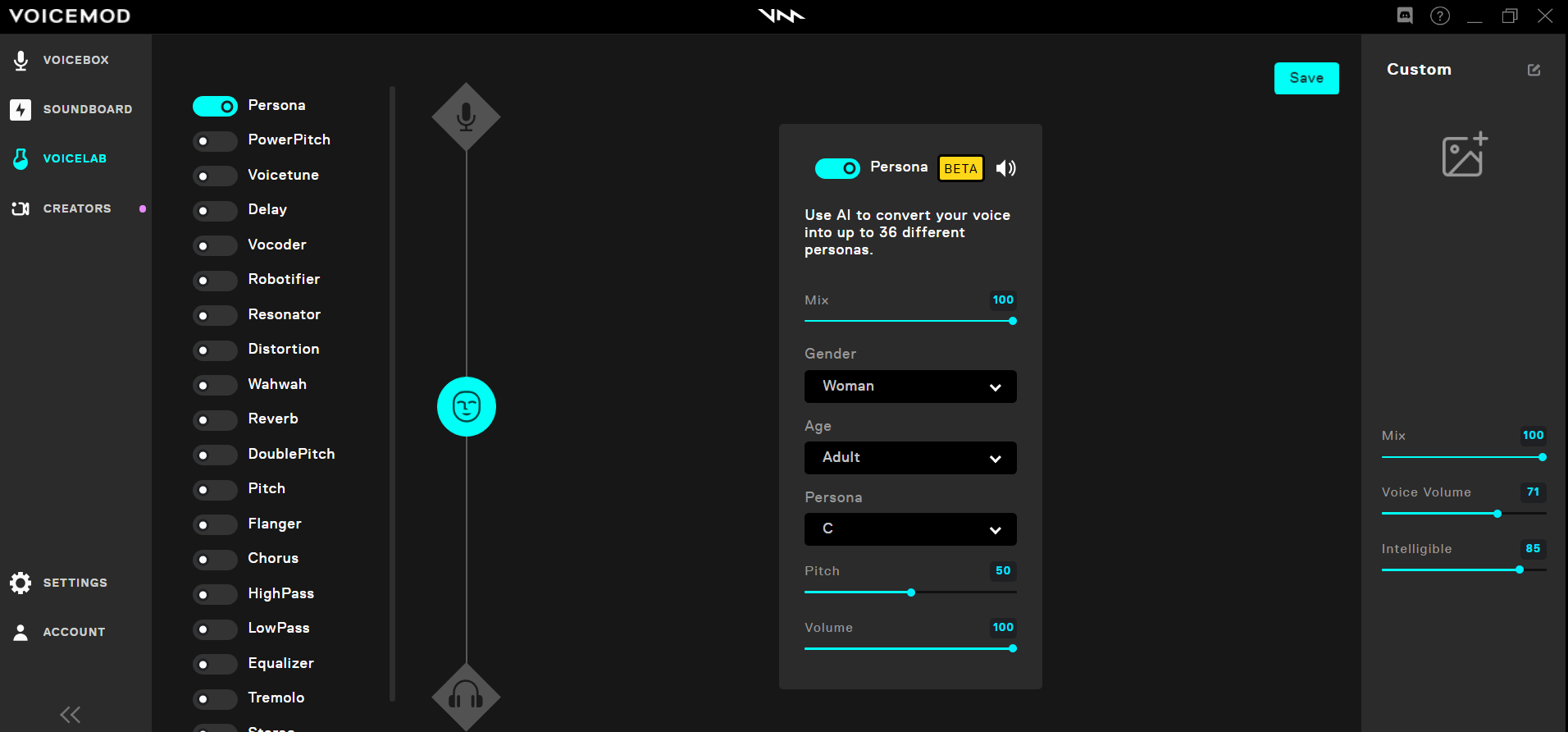 With few easy steps you can select and test which combination best works for you. Think of all the possibilities using the Pitch and other filters that can work amazingly well in combination with Persona voice
User-created voice library
Looking to add some custom voice changers to your Voicemod or upload your own? We've compiled a library of the best creations out there for you to try! Search by voice type or even game category, vote for your favorites, and import them directly into your Voicemod application- easy as that!
Share your creations with the community
Our community of avid users and creators love to show off their voice maker creations and check out others! Post your newly-created voices for others to try out for themselves, or browse to get some inspiration. Don't be shy!
Check out these Voicelab Samples
These are just some of the voices you can make by using the Voicelab.
How to use Voicemod with other games & apps
if(is_admin_bar_showing()){ ?> } ?>