HOW TO START USING VOICE SKINS
Get started in 6 simple steps:
Download Voicemod and configure it correctly on your PC by selecting your main microphone as the input device.
Select the Voicebox menu option to access the various voice filters, or the Voicelab menu option to create your own voice filter.
Make sure that the "Voice Changer" toggle at the bottom of the window is turned on.
Browse the library of voice effects, choose your favorites, and assign them to keybinds if you wish.
Use the "Hear Myself" toggle at the bottom of the window to demo your new voice and the "Background Effects" toggle to turn ambient effects on or off.
Ensure that you select "Microphone (Voicemod Virtual Audio Device)" as your input device in the application you want to use the voice changer with.
Your new voice should now be coming through your microphone signal. You're good to go!
What is a voice skin?
Voice skins or vocal avatars are a layer of personalization of the audio that allows players to change and perform a conversion of the sound received by the mic. Voicemod is a software that allows you to carry out partial cloning of the voice of people and characters in real time, thus improving the user experience. The objective of this technology is that in games such as Fortnite, Overwatch, or APEX Legends the participants can customize to the last detail of their personalities online.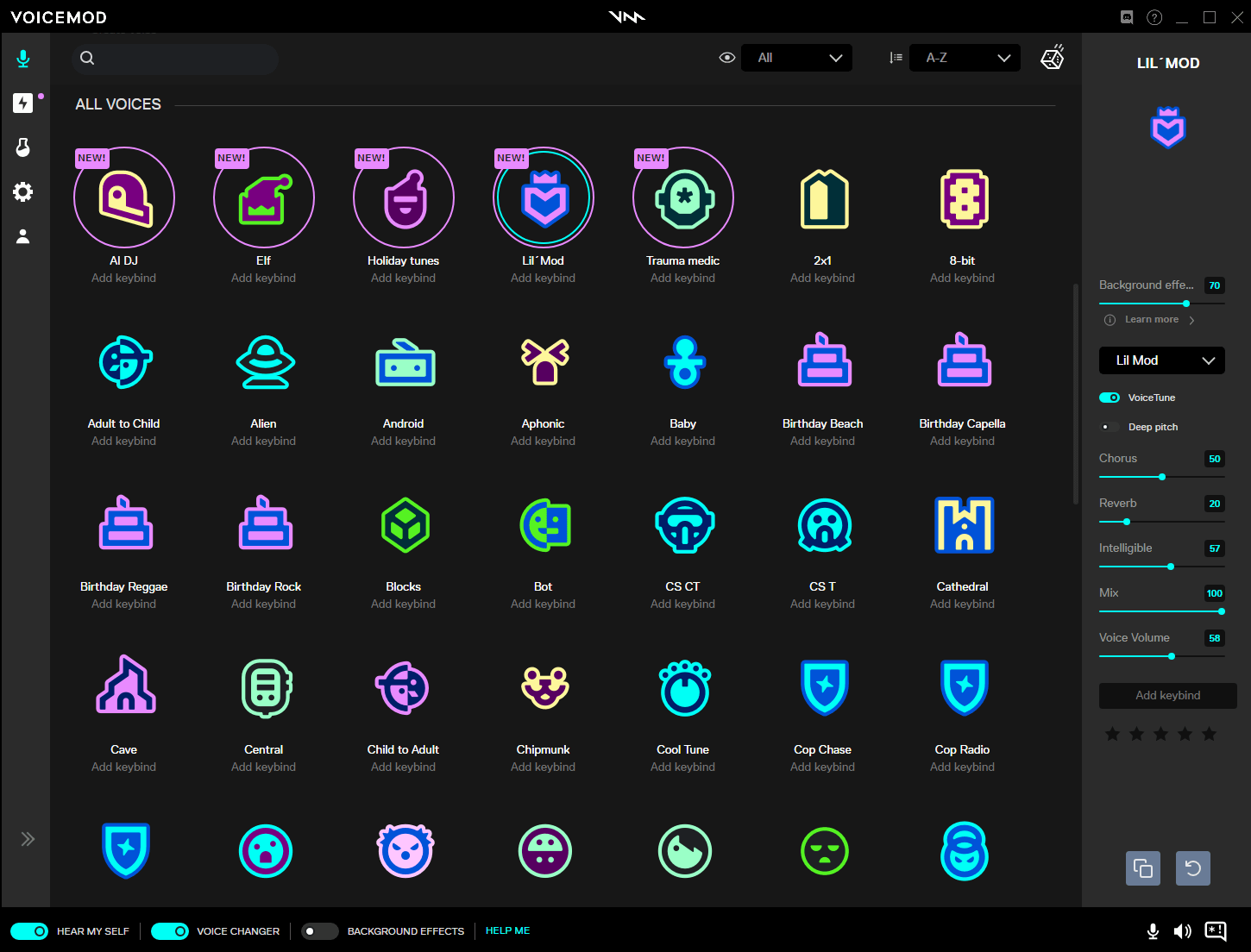 How do voice skins work?
Using Voicemod Voice Maker it is possible to choose between different audio effects that allow you to alter the tone of a voice and thus change your gender online. Basically, you can use it as a voice cloner for women or men in the voice chat of any online game.
This type of software and its audio technology in real-time allows designing in detail an online person, changing gender or speaking style. It is also possible to use it to imitate characters or celebrities. Changing or cloning voice timbre and tone in the online games or Discord chat can greatly improve the player experience, and give a more realistic touch to the characters that are used.
How to use Voicemod with other games & apps
if(is_admin_bar_showing()){ ?> } ?>