Using VOICEMOD as
CS:GO Voice changer
If you play to eliminate terrorists or special forces teams, you can apply effects to your voice. From fun filters that will make you sound like a woman, to effects that make you sound like a robot. That's Voicemod: the best voice changer and modulator for CSGO (Counter Strike – Global Offensive). You can choose more than 70 presets we have created for trolling in the game chat, when you are ingame or in lobby before starting a game.
Compete online in Global Offensive in Casual, Deathmatch, Arms Race, Demolition, Wingman or Flying Scoutsman modes trolling your teammates with your voice, with funny o scary real time effects.
Download, install and enable the app to use high quality sound effects in game.
How to use Voicemod
on CS:GO
Open Voicemod Voice Changer App.
Open your System Audio Settings.
Configure Microphone (Voicemod Virtual Audio Device (WDM)) as Default Microphone.
Save and Apply.
Open and enjoy CSGO with Voicemod soundboard.
Remember, when you don't want to use Voicemod app to transform your voice in your streaming/communication audio chat or game, you have to set your real microphone as your input device again.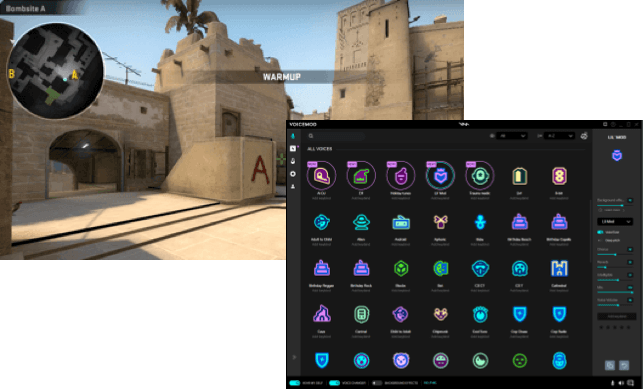 CS:GO Danger Zone Battle Royale Voice Changer:
Voicemod Voice Modifier, audio effects, voice generator and soundboard also work with the Battle Royale mode of CS: GO, known as the Danger Zone. The Voice Changer will serve to troll the other players who compete against in the online games and death battles that are disputed in Blacksite the arena of this new game mode of Counter Strike Global Offensive.
Surprise your enemies by installing Voicemod, the best voice changer for CS: GO Danger Zone.
How to use Voicemod with other games & apps
if(is_admin_bar_showing()){ ?> } ?>