How to set up Voicemod Voice Changer
and Soundboard on Dead by Daylight
Get Voicemod set up for Dead by Daylight in 4 simple steps:
Download Voicemod and configure it correctly on your PC by selecting your main microphone as the input device in the application.
Ensure that the "Voice Changer" toggle at the bottom of the window is turned on.
Browse the library of voice filters and soundboards and assign your favorites to keybinds for quicker access if you wish.
Ensure that "Microphone (Voicemod Virtual Audio Device)" is selected as your input device in your voice chat application of choice (Discord, TeamSpeak, etc.).
Your new voice and sound effects should now be coming through your microphone signal. Now you are ready to change your voice in Dead by Daylight. Enjoy!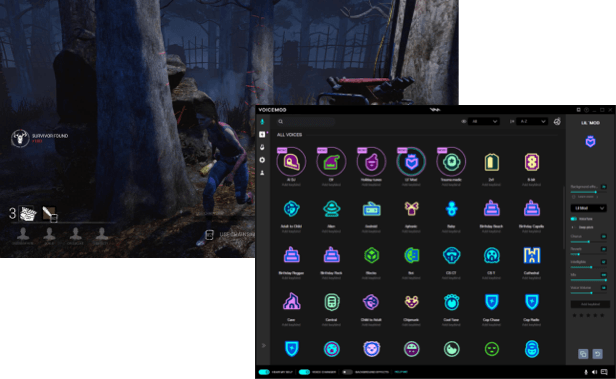 Morph into anyone with voice filters
With a huge library of over 100 voice changers, Voicemod gives you the power to sound like anyone — or anything. Mess with your friends in DBD games by using filters to perfectly mimic a killer, or incorporate them in your content to take your livestreams to the next level!
Want to do on-the-fly voice acting? Assign voice changers to keybinds to jump in and out of character, or switch between voices to keep things fresh. If you prefer the simple route, try out our Clean Voice filter to enhance your natural vocals and bring the best out of any microphone. Balance audio levels and reduce background noise with one click.
Spooky sound effects for DBD
Amp up your gameplay and make others run in fear using our soundboards for Dead by Daylight. With loads of themed options and more released regularly, add sounds to key moments to entertain everyone from friends to an audience. Incorporate killer slashes and screams, horror music, or even hilarious meme sound effects — the choice is yours!
Want to include authentic DBD game sounds? Create your very own Dead by Daylight soundboard by uploading any .MP3 or .WAV file and fool everyone! Bind your favorites to shortcuts to spam away on demand for perfect timed reactions.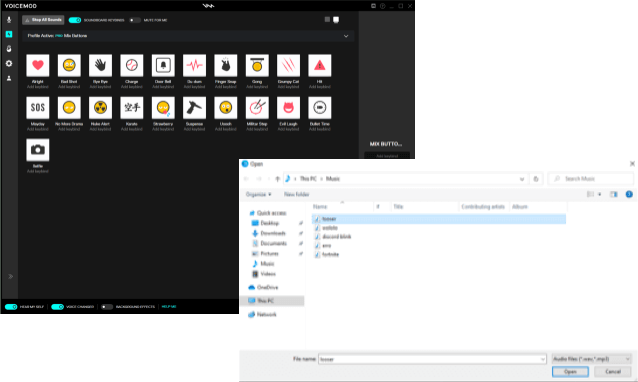 CREATE YOUR OWN VOICE CHANGER
FOR DEAD BY DAYLIGHT
Is there a killer you'd just love to imitate? With the Voicemod Voicelab, create your own custom DBD voice filter and have full control! Use over 15 effects and sliders to perfectly tailor your new voice — there are no limits.
If you're particularly proud of your creation, share it with the Voicelab community for others to try! You can also browse thousands of voices and download them straight to your Voicemod application for endless voice-changing opportunities.
Click here to visit the Community Voices library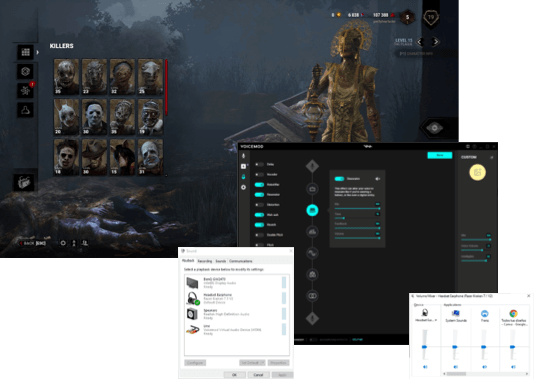 Can I use Voicemod with other applications?
You're in luck! Voicemod is compatible with a huge number of voice chat, gaming, and streaming applications. You can use your brand new voice and sound effects with Discord, TeamSpeak, Skype, and more by simply choosing Voicemod's virtual mic as your input device. Enjoy Voicemod on video calls and everywhere else!
For games that offer in-game voice chat support, simply repeat the above step if the game offers its own mic settings. In some cases, games may make use of your Windows default microphone, so ensure to set the Voicemod virtual mic as your system's default microphone to be safe.
If you're a Dead by Daylight streamer or content creator, just select the Voicemod mic when using OBS, XSplit, Streamlabs, or any other streaming application — simple as that! You can also make use of the virtual mic when creating game recordings and voice-over using Audacity or other recording applications. Check out the guide section at the bottom of this page for detailed instructions to get Voicemod up and running with your program of choice.
How to use Voicemod with other games & apps
if(is_admin_bar_showing()){ ?> } ?>