Wait—Does Voicemod work with all my games?
Oh, yes—that. Voicemod is compatible with all your favorite games and apps. Playing Fortnite? Yep, you can use all our voices and sounds there. Running a TTRPG via Discord? My DM friend, Voicemod is the thing you've been missing. Want to sound like an enormous monster hewn from soil and rock, terrifying your party into submission with dread and rumbling? We can do that. We can make your RPG sessions more immersive than you thought possible.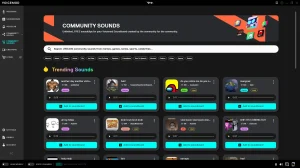 If you use a microphone with it, you can use Voicemod with it. Call of Duty, Apex Legends, Roblox, Minecraft… you can even use it in a Teams or Zoom call. 
Voicemod is like magick, for your voice. No—it is magick for your voice. Download the app!
Do it NOW.