Ready for the battle?
Change your voice in Apex Legends
To get a better gaming experience in APEX Legends and surprise your friends during the fun games in battle royale mode, you must download and install Voicemod, the voice changer, generator and enhancer that will modify your voice in real time. Now you can sound like a robot, like a girl, like a chipmunk or as a demon simply by selecting the voice of your choice. There are tons of different effects ready for you to select and enjoy.
Further, if you are looking to play meme sounds or funny audios, you can upload MP3 or WAV files into the Sound Machine. It is a simple Soundboard with which to make skirmishes funnier with your team. Assign your favorite sound effects to keybinds for easy use and customize your gaming experience just in a few minutes.
How to use Voicemod
Voice Changer
on Apex Legends
Get set up in only five minutes with these easy steps:
Download, install & open Voicemod Voice Changer App. Select the inputs and outputs of your headset to use the Voice Changer in APEX Legends.
Open your System Audio Settings & configure Microphone (Voicemod Virtual Audio Device (WDM)) as Default Microphone.
Save and Apply.
Set correctly the audio options in APEX Legends.
Now you can choose your favorite character, search for battle partners and start a good Voice Trolling session. Change your voice and amplify your Apex Legends experience!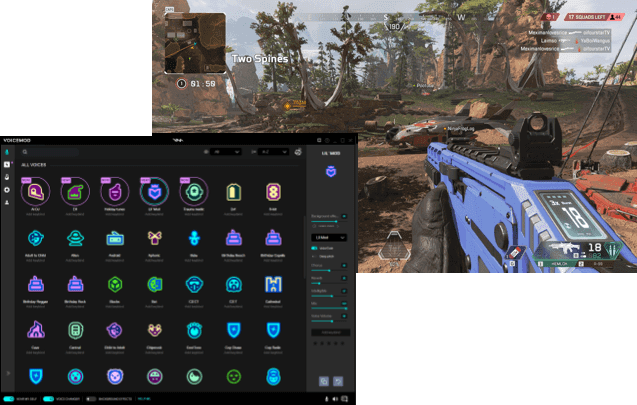 FUNNY VOICE TROLLING IN APEX LEGENDS
Take your APEX Legends games to the next level, surprising your comrades in battles with Voicemod voice effects. With over 80 voice filters and counting, Voicemod allows you to try a new voice for every occasion, updated every month. Keybinds allow for easy access to your favorite filters so you don't miss a beat during your gameplay.
When you are gaming you want the trolling to be in real time and that's what Voicemod offers. Get ready to give an extra layer of personalization to your favourite character. Surprise your enemies by installing Voicemod, the best voice changer & soundboard for Apex Legends.
Once installed and configured, you can use Voicemod in Apex Legends and in other battle royal games like Call of Duty: Warzone, Fortnite and many more. Just choose your favourite game and try something new!
How to use Voicemod with other games & apps
if(is_admin_bar_showing()){ ?> } ?>