The Mandalorian Voice Changer for PC 
Follow these steps below to bring your Mando voice to life: 
Step 1: Download Voicemod for PC
Download the Voicemod desktop app, set it up, and upgrade to a Voicemod Pro account so that you can access the Voicelab feature. That's where we'll be creating this voice from scratch. 
Step 2: Go to the Voicelab 
Enable the "hear myself" and "voice changer" toggles at the bottom of the screen so that you can hear how your voice sounds as you create it. Head into the Voicelab to create your voice by adjusting these effects: PowerPitch, Resonator, Reverb, High Pass, and Low Pass. Check out the image below to see where you should set each effect.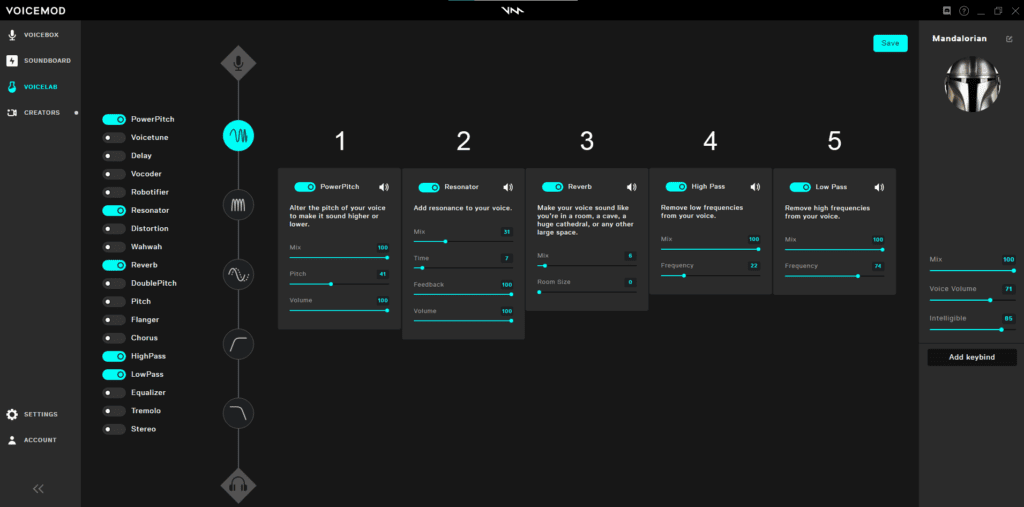 Step 3: Save your voice
Every voice is different, so feel free to play around with the different Voicelab effects until you get the perfect sound. Once you're happy with your Mando voice, give it a title and click save in the top right corner. You can then access your new voice filter from the Voicebox feature! Assign a keybind to your voice to access it at the touch of the button whenever you want.