How to Find Sound Clips Online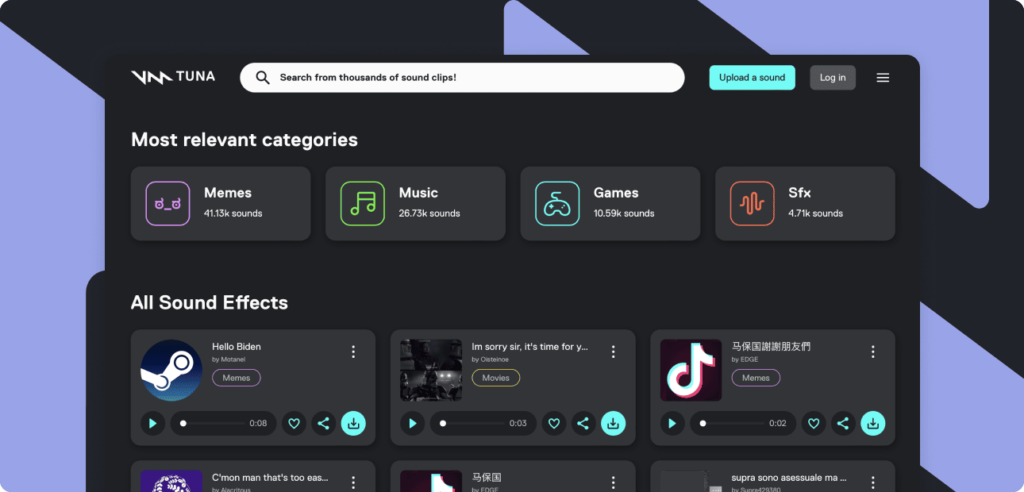 First things first: How do you find meme-worthy sound clips online? If you haven't already heard of Voicemod's Tuna sound clip library, you're in for a real treat. Tuna is our online library of sounds and sound clips created by our very own community of Voicemod users. With Tuna, you have access to literally thousands of sound clips that are created and uploaded by our own community on a daily basis. 
You'll find different categories of sounds, like memes, music, games, movies, anime, sports, you name it! And if you can't find what you're looking for, why not upload it yourself? Share your own sound clips with our growing community by uploading them to Tuna. 
This is the ideal sound clip hub if you're looking for the right sound to play in your group chats or to create your own soundboards. Just browse through the different sounds and click the Voicemod icon on the sound to send it directly to Voicemod! 
💡Hot tip: If you're a Voicemod Pro user, you can upload as many sounds to Voicemod as you want. If you're a free user, consider upgrading to Pro in the app so that you can create your own soundboards! 
Learn more about how to use Voicemod's soundboards with Discord.